Microsoft Office 365 – improved integration and communication that empowers health professionals to deliver the best possible care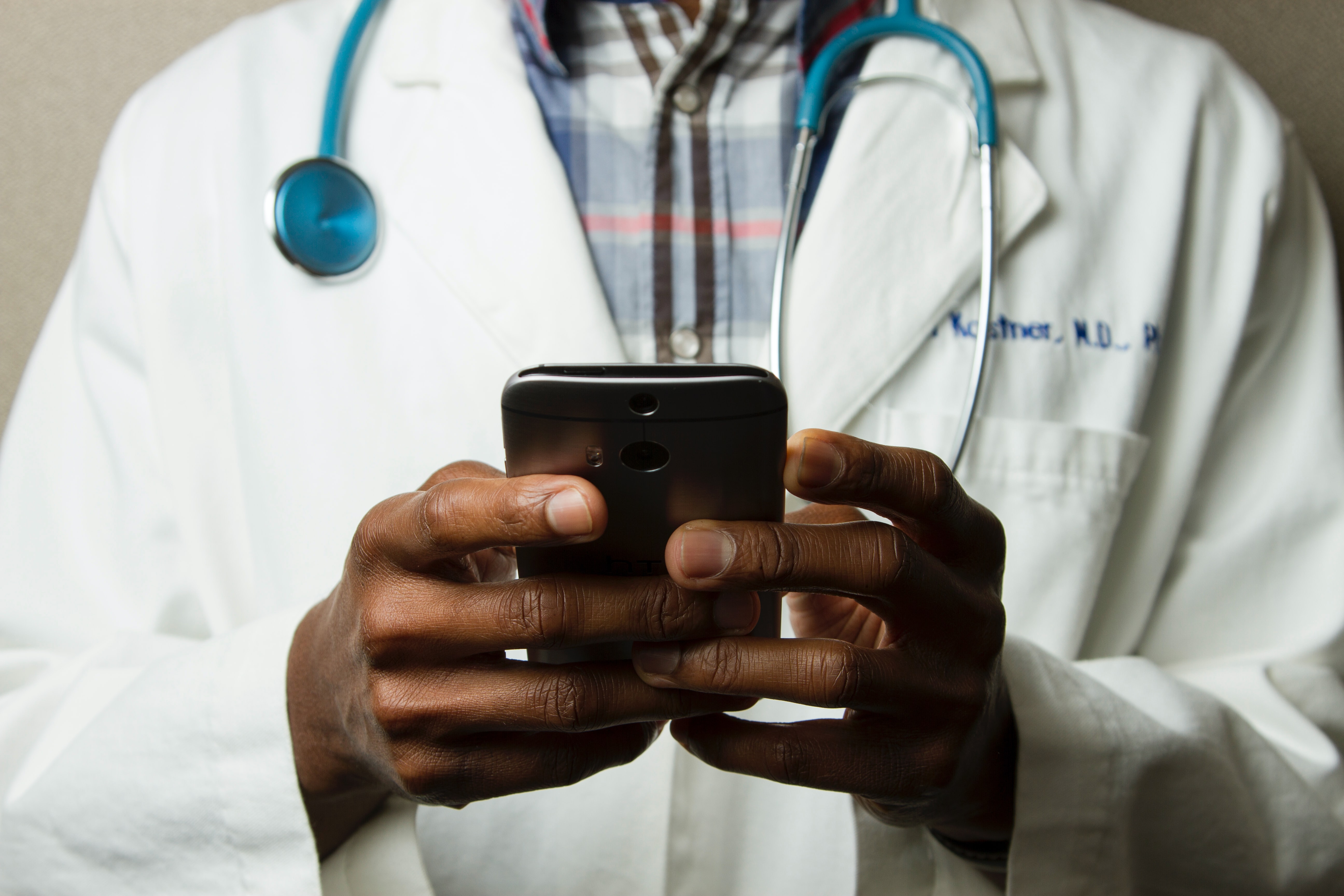 Microsoft Office 365 – improved integration and communication that empowers health professionals to deliver the best possible care
Healthcare professionals strive to provide the best possible care, and Microsoft Office 365 for healthcare is a widely-used tool of choice that enables them to work productively, collaboratively and securely from anywhere, and on multiple devices.
As an innovative, collaborative NHS organisation providing digital and IT services to health and care providers in primary, secondary and third sectors across the UK, we know full well the benefits that Microsoft Office 365 can provide for healthcare professionals.
It is one of our tried and trusted digital healthcare solutions employed to maximum effect by our dedicated team of health informatics experts, who share the sector's passion and values for providing the best possible care, insight and service for patients.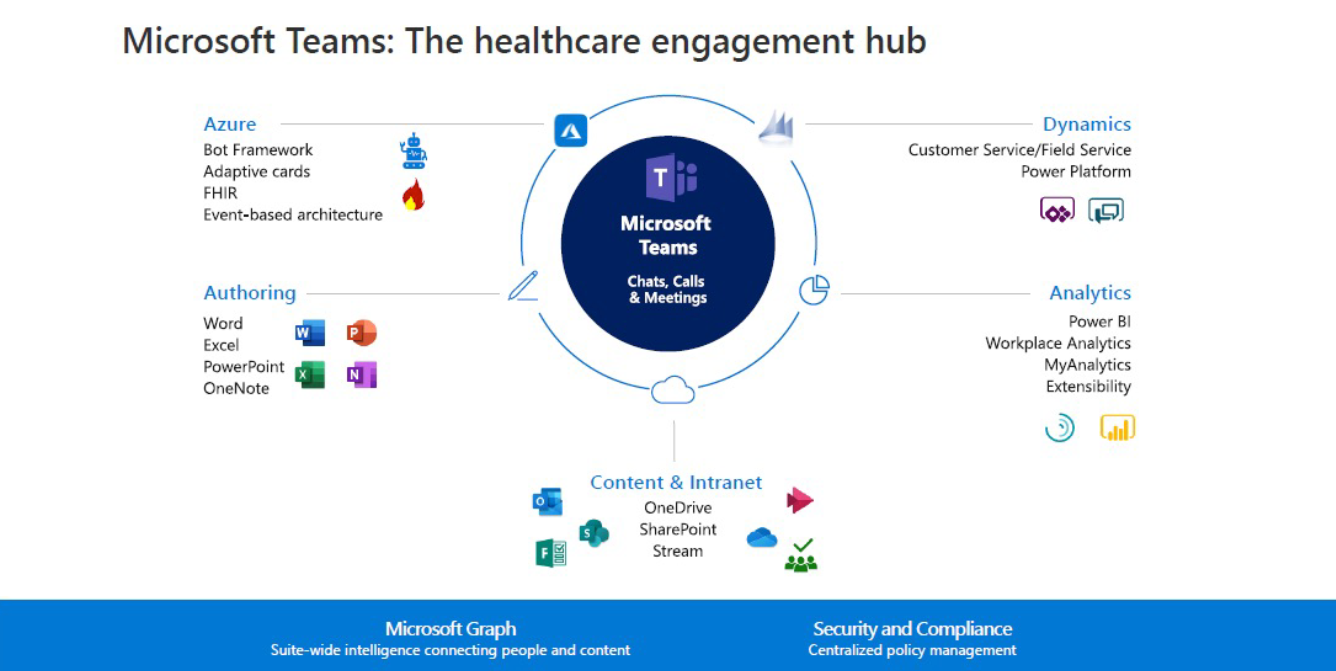 Technology, knowledge, insight and feedback
Collaboration is the fast and efficient way of working together for better outcomes for all, utilising all the relevant technology, knowledge, insight and feedback available.
In an ever-changing world of remote and/or agile working, the need to communicate and collaborate simply and seamlessly has never been so important. We utilise the full Microsoft Office 365 suite of apps to maximise the ability of a client's teams to work together and share knowledge, insight and feedback.
Microsoft is constantly investing in its health solutions and several of our clients have called on our digital transformation expertise to evolve their ways of working from previous incarnations of Microsoft Office to the current, all-encompassing 365 for healthcare seen here…
The healthcare hub - sharing seamlessly, and securely
Underpinned by Microsoft Teams' ability to host chats, calls and meetings, the digital healthcare landscape has never looked more connected for our customers.
The hub's purpose is to make for efficient, collaborative, streamlined working. The apps featured in the diagram provide the ability to share information seamlessly but securely - especially important given the increase in remote working and virtual appointments.
And as the hub can be customised to work with third party apps, processes and devices, it all comes together to offer our clients flexibility, security and peace of mind that they are upholding the highest possible standards.
Healthcare software services in the cloud
Microsoft Cloud for Healthcare provides the capabilities to manage health data at scale and make it easier for healthcare organisations to improve the patient experience, co-ordinate care and drive operational efficiency, while helping support security, compliance and interoperability of health data.
We provided this type of solution when we migrated a dated IT infrastructure to a cloud-based Microsoft Office 365 solution for a healthcare provider with 1,200 staff.
The client, Spectrum, which provides health support services to 17 secure environments, 3 sexual health services and a number of community substance misuse health services across the North of England, was seeking the benefits of uprading from Office 2010 – which was no longer being supported by Microsoft - to the cloud-based 365 solution to take advantage of the cloud's greater flexibility (data storage can be scaled up and down) and easier access.
You can read about the full extent of our digital healthcare transformation for Spectrum.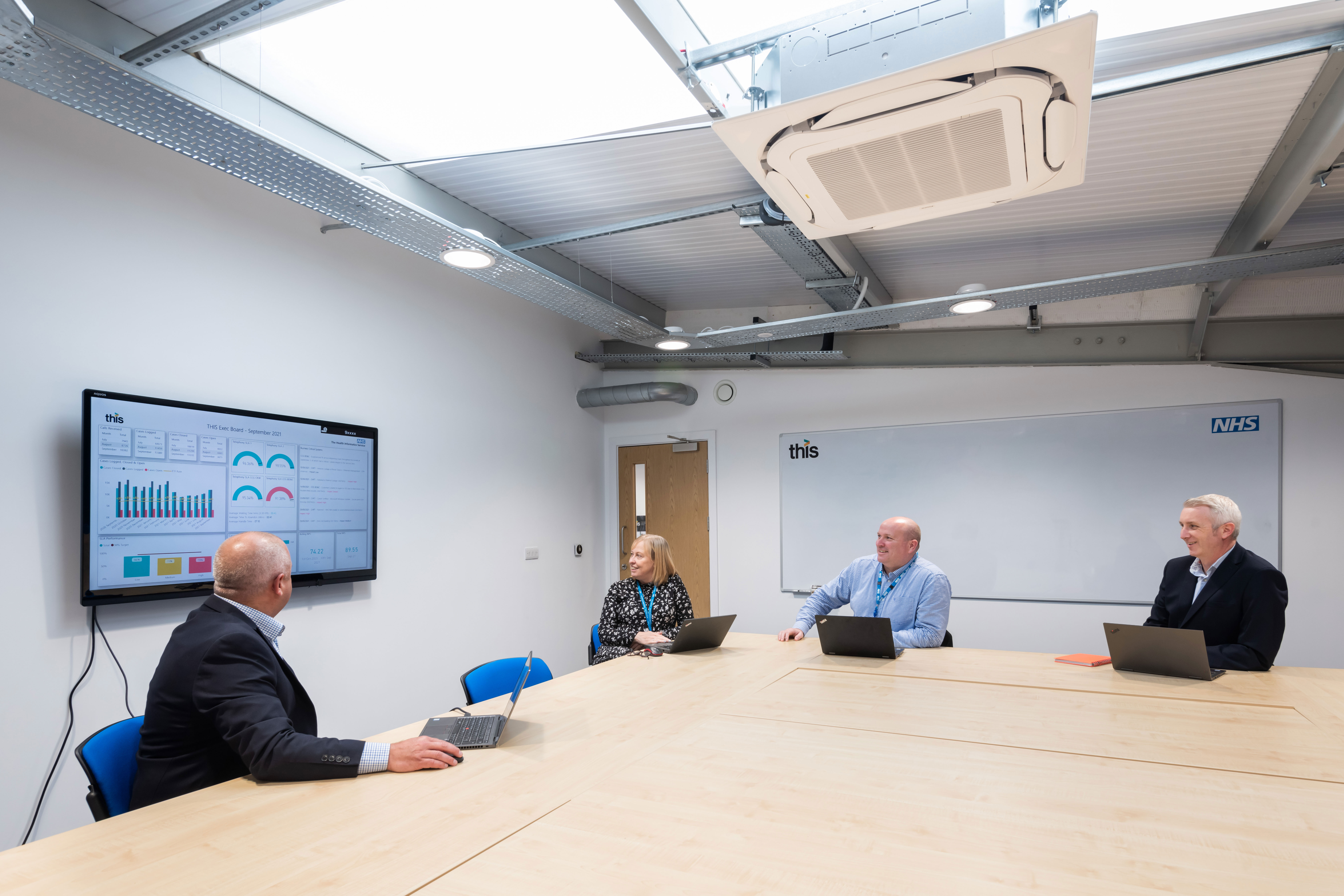 Getting the most out of Microsoft Office
As part of our professional services, we given organisations the opportunity to Improve their teams' skills to get the most out of Microsoft Office with globally-recognised Microsoft Office Specialist (MOS) qualifications.
MOS is a performance-based certification that validates the skills needed to get the most out of Microsoft Office 365. It helps organisations to achieve the growing demand of a qualified, knowledgeable, effective and efficient workforce.
THIS' team of highly skilled, experienced trainers support online learning in the workplace or at home. Individual tutor support is also available along with online practice exams. And learners gain speedy access to results once they taken their exams.
Once enrolled to the Microsoft Office training, delegates will gain access to online learning, a practice exam and an invigilated exam. A Microsoft Certified Desktop Support Technician (MCDST) tutor will be available for support throughout the learning process.
Get in touch
Great relationships represent a key ingredient to successful healthcare outcomes and collaborative work.
We're great listeners and trusted advisers. We build excellent relationships between all the diverse stakeholders we work with.
Our NHS clients include London's Great Ormond Street Hospital and hospital trusts in Southampton, Oxford, Cambridge, Nottingham, Derby, Birmingham, Liverpool, Manchester, Middlesbrough, North Tees & Hartlepool, Newcastle Upon Tyne, Edinburgh, Lanarkshire and Glasgow.
Find out more about our Microsoft Office services.