How voice recognition technology is benefitting NHS staff and patients

How voice recognition technology is benefitting NHS staff and patients
The Health Informatics Service (THIS) has introduced speech recognition systems to benefit the musculoskeletal and physiotherapy services at our host trust, Calderdale and Huddersfield NHS Foundation Trust (CHFT), which manages Huddersfield Royal Infirmary and Calderdale Royal Hospital in Halifax, along with community outreach services.
This project was all about collaborating with client organisations and staff to design and develop the best systems to improve the care of patients.
We partnered with Nuance Dragon Medical One, a cloud-based solution hosted on Microsoft Azur, to produce scripts, called AutoTexts, covering different types of patient notes and letters.
Put into use, each clinician reads through the relevant script displayed on-screen and instead of typing notes, uses his or her voice to add specific details, such as the individual patient's name and medical details, when prompted to do so by on-screen highlighted brackets within the text.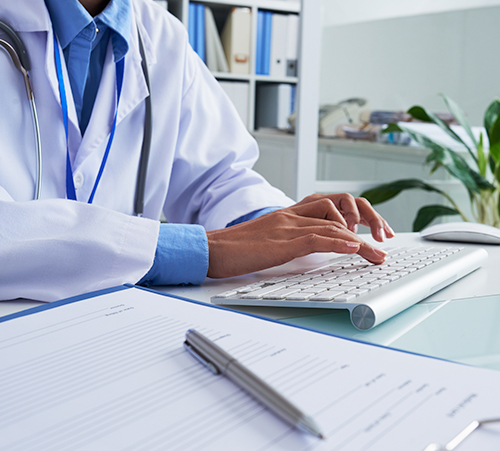 Saving time and effort
Joints, muscles, and bone conditions affect one-in-four of the UK adult population and account for over 25 percent of surgical interventions nationally by the NHS.
The voice recognition technology implemented by THIS reduces repetitive tasks surrounding the recording, checking and despatch of patients' clinical notes and letters. This enables clinical and secretarial staff to spend more time on patient care, minimises unwarranted variances in patients' records, and reduces staff frustration and burn out blamed on heavy paperwork duties.
The time saving has been dramatic. In one six-month period, staff inputted more than 40,000 minutes of text using voice recognition technology. Because inputting speech with voice recognition is 3-5 times faster than typing, the new system saved approxinately 150,000 minutes (2,500 hours) which would have previously been required to type the information.
Efficient, leaner and more consistent record keeping
We provided the entire business case for using voice recognition solutions across the trust, of which the application in musculoskeletal services forms one part.
We provided technical set-up and digital agile project management, defining the scope of voice recognition applications across these particular services. The outcomes include efficient, leaner and more consistent clinical record keeping and improved professional satisfaction, with staff spending more time in caring for patients and less time keeping notes up to date.
Luke Stockdale, our Director of Digital Transformation, explains: "Traditionally, consultants spoke into dictating machines and secretaries typed up the patient notes which had to be checked before being filed or despatched as letters. The process could involve four handovers.
"Now with voice recognition, the clinician speaks and uses AutoTexts, the secretary checks the notes and the notes are actioned. Clinicians can then focus more on patient care and secretaries can focus on other more valuable tasks relating to management of the practice or department. Voice recognition also removes variance and creates common quality with all notes."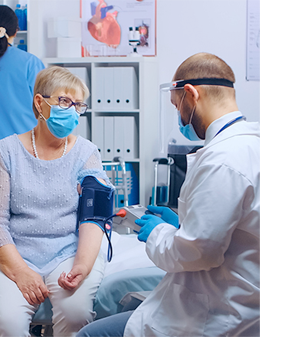 One size doesn't fit all
We will now look at how we scope this solution out into different services and departments - one size doesn't fit all. For example, we'll look at how we can apply it to different wards, therapies or occupational health, for dyslexia, or for NHS staff with wrist injuries who cannot use keyboards at work.
The need for quick, quality clinical documentation has never been more important. Those on the front line – hospital doctors, GPs, nurses, and other healthcare professionals – are working tirelessly to provide essential services and lifesaving treatments. Anything we can provide to help them is invaluable.
Conclusion
Voice recognition is constantly growing and improving. Consumers now use it at home, such as with Alexa and Siri, and in cars with hands-free technology. Voice recognition is spreading from consumer technology and private spaces to organisations and workplaces. This trend will continue and applications will grow further.
We work with public, private and not-for-profit care providers across the UK. We have four main areas of services covering informatics and IT. These are:
Operational support, including collaboration, data centres, healthcare network support, IT service desk, Microsoft Active Directory (AD) and cyber security
Professional services feature programme and project management, Registration Authority, IM&T training and Microsoft Office Specialist training.
Healthcare website development, including design and graphic
Information management, including business intelligence consultancy, clinical coding and web-based knowledge portals.
Our clients include clinical commissioning groups, hospitals, laboratories, hospices and charities.
A word from our project partners Nuance
Simon Wallace is Chief Clinical Information Officer at Nuance. He says:
"Calderdale and Huddersfield NHS Foundation Trust is transforming the way it delivers patient services, harnessing modern technologies to improve outcomes and support staff.

"With so much strain on the NHS's resources, it can feel as if paperwork is yet another heavy and time-intensive burden for clinical professionals. This is why many hospitals are turning to our speech recognition technologies. Not only do these technologies save time, they also enable clinical professionals to focus on what really matters - their patients."